Ski Center Tornik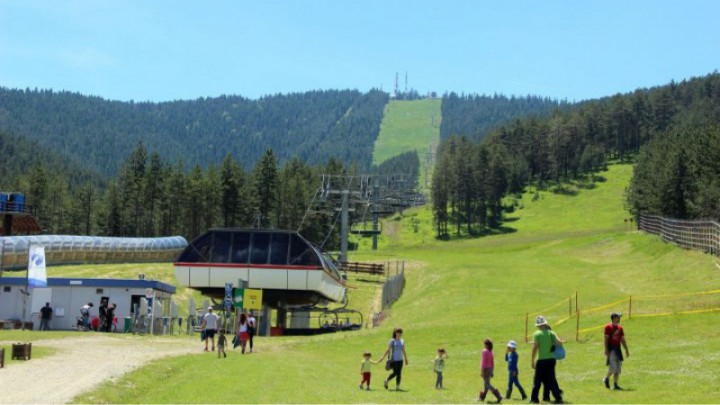 Ski center "Tornik" is the largest ski resort on Zlatibor. It is located 9 kilometers from the tourist center of Zlatibor at an altitude of 1,110 – 1,490 meters. This ski resort has five trails (Cigota, Tornik, Ribnica, Zmajevac and Stankova ravan) with a total length of about 10 kilometers.
The capacity of the ski resort is about 5,400 skiers per hour. The Tornik Ski Center is equipped with the most modern 6-seater cable car, with 107 seats, a speed of five meters per second and a length of 1,850 meters. Its terminus is at an altitude of 1,110 m and climbs to 1,490 m (the highest peak of Tornik being 1,496 m). The capacity of the 6-seater cable car is about 3,000 skiers per hour, and there are two more ski lift anchors on Tornik, with a total capacity of 2,400 skiers per hour. A 150-meter-long conveyor belt has been installed for the youngest and beginners.
All five trails are covered by an artificial snow system, so this ski center is no longer dependent on weather conditions and its winter season has been extended to about 100 days.
Ski center Tornik is attractive both in winter and summer. During the summer months, the 6-seater cable car is used for panoramic rides, and in this center there is a new type of installation, the so-called "Tubing", which, like the cable car itself, can be used in both summer and winter, and provides immense pleasure and excitement to anyone who decides to try it. The ski center is also equipped with a children's playground and a carousel.
Among the summer facilities, there are also bobsleigh rails, an adventure park, a mini golf course, multifunctional sports courts and a zip line.
During the summer months, there is something for the adrenaline lovers too. The trails for mountain biking: Ribnica, Beli kamen, Previja and Vidikovac, while for recreational cyclists there is the Marici trail.
In addition to these trails, visitors can enjoy a new downhill trail, as well as a mountain cart trail. Bicycles and carts can be rented at the Ski Center "Tornik".