The church in Semegnjevo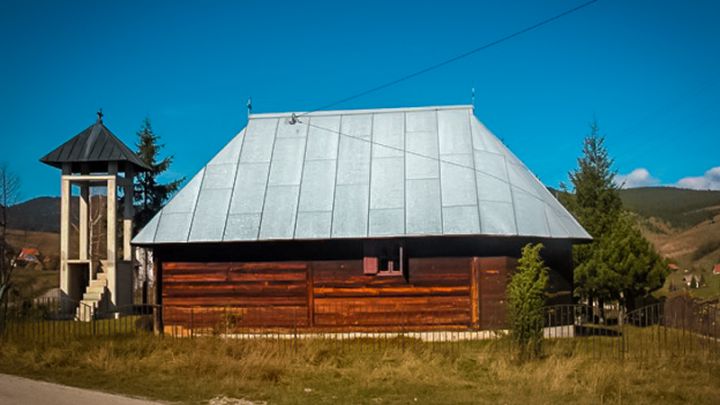 A wooden church of modest dimensions dedicated to the Birth of St. John the Baptist is located in the central area of Smegenjevo village.
It was built of hogged logs with a rectangular base and ends with the dome that used to be plastered. The church is illuminated with three windows, south, north and east, which illuminates the dome. The roof is made of wood, covered with sheet metal.
On the western side there is the founder's plaque that says: "This sacred temple dedicated to the birth of St. John the Baptist, raised in perpetual memory of her parents father Jevrem, mother Stanislava Kostić, husband Ljubomir, children Miodrag and Slavko and niece Vinka. Savka Đurić from Semegnjevo. The place of the church donated, and church built, in the name of Savka, by Branko Piščević with his sons, while serving parish of Dobroselica priest-monk Marko Popović iz Slatine, Danilov Grad, the year of 1927.
Next to the church is a belfry, leaning on four concrete pillars whose bell was also purchased by Savka Đurić.
Although it is a relatively new church, considering churches in Jablanica and Dobroselica, built almost a hundred years ago, this ancient temple in Semegnjevo, beside its spiritual value, is unique in construction has one more tourist value of the Zlatibor region.