Extreme sports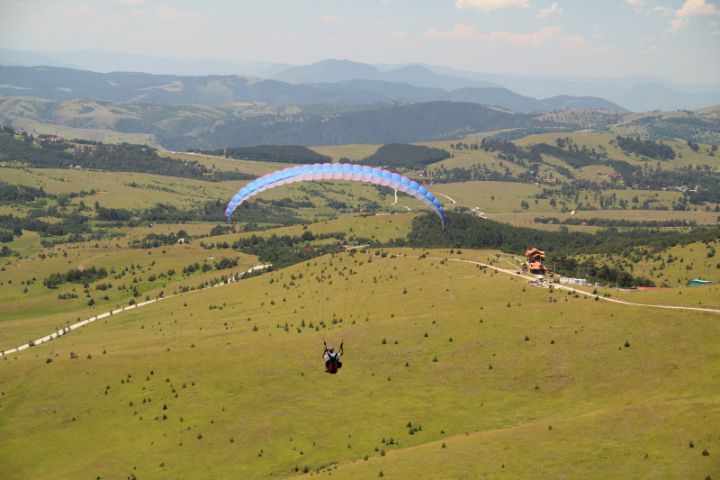 Paragliding
Thanks to suitable terrain and convenient air currents, paragliding has become more and more popular extreme sport in recent years. Mountain peaks Čigota and Tornik are favorite airfields for paragliders. Paragliding Club "Avis" continues to nurture the sport through organizing courses of paragliding and open paragliding competition.
Licensed instructors of the paragliding school: +381 64/1500334, +38163/633596 School: +38131/845946, avisparaacademy@gmail.com
Horseback riding
All generations enjoy the sports and recreational riding. Horseback riding is possible on two locations: on the ranch Farma and the ranch Zova. Equestrian club "Farm Zlatibor" has 25 registered horses and 4 ponies. There is a trainer with a riding teaching and horse training license working in the club. Under the supervision of the trainer, with his help and advice it is possible to learn various skills in horse riding, take part in tourist and terrain riding, to ride in a carriage and also to control a horse drown vehicle or a carriage. The horseback riding for children is posible at the ranch Zova in an interesting enviroment.
Contact:
Equestrian club "Farma Zlatibor" 062/267-920
The ranch "Zova" 064/466-01-29
Trim trails and practice sites
On the most beautiful locations by the lake in the center, next to the SB "Čigota" in the spa part of Zlatibor and on Karaula hill, in a pine forest, trim trails and practice sites are arranged for running and gymnastics. Different kinds of exercise equipment are adapted for preparation of professional athletes and recreational amateurs. There is a 700m long circular jogging trail with the sand and sawdust groundwork.
Gyms
Everyone who take care of their physical appearance can use most modern equipped gyms in hotels. The gym in the sports center is the largest and best equipped, and its use is suitable for sports teams. The other accommodation facilities have gyms of different types and qualities, and coach provides assistance in all the gyms, so the exercise is under the professional supervision. The sports hall in Čajetina also has a gym which can be used by teams in training.