Collective and individual sports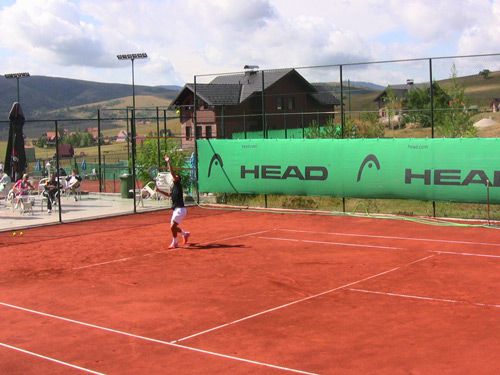 The most popular and the most attractive team sport in the world is definitely football. And right here in Zlatibor, along with the exceptional climatic conditions, good basis for basic training is completed by modern infrastructure. Actually, there are new football fields near the center and now there are two courts and changing rooms on our mountain beauty, and they are the part of the cultural and sport center Čajetina, and four courts as a part of Palisad hotel.
Besides football, the most represented team sport is basketball. For the best preparations, basketball players can use the sports hall on Zlatibor within the Sports and recreational center. Hall meets world's standards for sports halls, height of the hall is 15 meters and the surface of the parquet is 1 500 square meters.
By lowering the curtain, the court is divided into three standard basketball courts, which provides an opportunity for three teams to train simultaneously. There are 712 seats on the stands, with the possibility of extension to 2500 seats by adding additional stands. The gym with the fitness program is a part of the sports hall. The athletes can alo use the sports hall in Čajetina which is smaller in size, has one basketball court and has a total of 450 seats.
Numerous sports clubs and teams from the country and abroad come to Zlatibor regularly to do thair preparations. Besides Serbian basketball team, there are: Panathinaikos, Partizan, BC Dynamo Moscow, CSK and many others.
Basketball camps are held each year. The most eminent trainers such as Željko Obradović, Bora Džaković, Zoran Sretenović, Bora Cenic and many others work there.
There are two courts for Volleyball, and two for handball and small sports. There is a possibility of adapting the courts for various sports.
Tennis players can use four courts at the hotel Palisad whose surface is slag, two courts at the student resorts Ratko Mitrovic whose surface is tartan.
In 2010, the tennis center "Springs" is opened, two and a half kilometers from the highway Belgrade-Podgorica and partly borders the regional road Zlatibor-Sirogojno. Centre extends over 4 hectares. It is separated from populated areas, in a beautiful and natural environment. It has seven clay courts, locker rooms, tennis club and suites for players.
Contact phones:
To reserve football field:
Cultural and Sports Center "Čajetina" 031/832 to 104.031 / 831-998
Hotel "Palisad" 064 / 845-90-18, Ivan Karapetrović
To reserve tennis courts:
Hotel "Palisad" 031 / 845-032
Tennis club "Springs" 064 / 137-13-10
To reserve sports courts:
Student Resort "Ratko Mitrovic" 031 / 841-369
Child resort "Golija" 031 / 841-135
SB "Čigota" 031 / 841-141
Sports halls:
Sports and tourist center "Zlatibor" 031 / 848-140
Cultural and Sports Center "Čajetina" 031/832 to 104.031 / 831-998